Since its publication last July, the blog post Nepal UWC Scholarship Application for 2017 has received hits every single month, 24 being the lowest (see image below). This month, it's already received over 350 hits!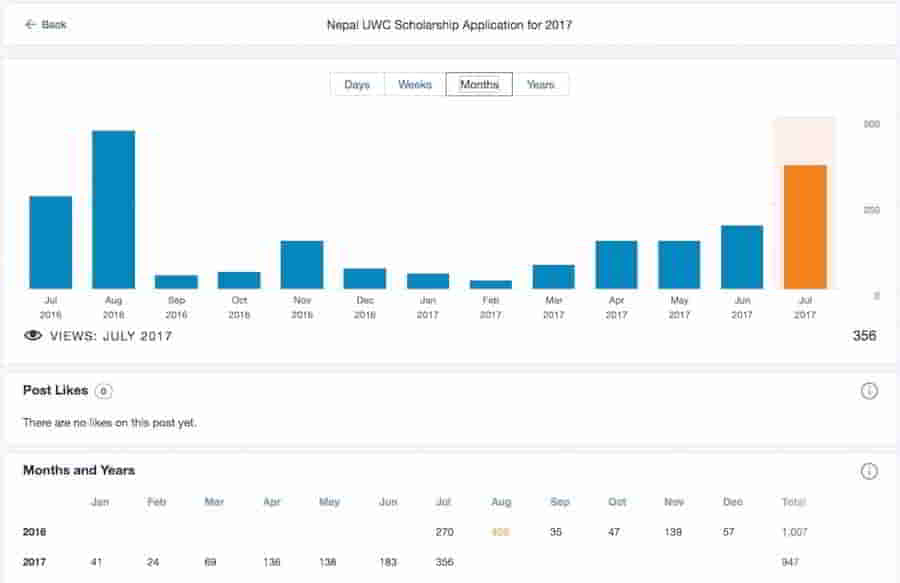 It's been shared over 430 times as well! Apart from that, I, personally, have also received inquiries about when the application for 2018 would be opened as well as requests for help with preparing for it!
Judging from just that, I have concluded that interest in UWC Scholarships must have increased dramatically this past year. Blog posts about the same published in 2015 and 2016 received nowhere near the number of hits nor were they shared anywhere near as many times.
Realizing that, I thought I would publish this blog post now to inform those interested in applying, or interested in having someone you know apply, where we are with the process.
Members of the Selection Committee met yesterday evening to revise the application form and fix the important dates. Once the application form is finalized, we shall make it available and publish the important dates as well.
In the mean time, you can do one of a couple of things:
Check out the hugely popular blog post Nepal UWC Scholarship Application for 2017 for the criteria, if you don't already know.
Bookmark this blog post and return periodically for updates about the application form as well as for details of the important dates.
What I am hoping for is that we will get more applicants this year than last year AND that we'll get many more full scholarship offers.
What do you think?
Aug. 16, 2017 Update
The application forms are available. Click here for the English version of the application. Link to the Nepali version will be added when it becomes available. The application form contains five parts all of which must be completed.
The deadline is September 15, 2017.
Unsure of how to download the form? click here for instructions.
Completed applications can be either scanned and emailed (to uwcnepal@gmail.com) or hard copies dropped off at COMMITTED's office (at the reception) in Kamaladi Road including application fee or evidence of payment of fee or fee-waiver request letter.
COMMITTED's office is at the end of a narrow access street (black line in the above map). The "gate" to the access street is right across from a business called Capital De´cor.
If lost call 425-9759 and ask to speak to Sobha for directions. For any other UWC or UWC Scholarship-related issues or questions, please email uwcnepal@gmail.com or contact the UWC Nepal National Committee Coordinator at 9841268991.
Click here for more such as the UWC National Committee calendar.
Good luck!
Facebook Comments (see farther below for other comments)
comments